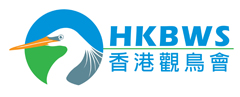 Subject: 香港大學協助保護燕巢 HKU help to save swift nest [Print This Page]

---
Author: Sze Time: 18/02/2012 00:39 Subject: 香港大學協助保護燕巢 HKU help to save swift nest

Thank you so much for the support from HKU.
And Thanks for the help from Mr. Beetle CHENG (HKBWS Conservation Officer)

[ Last edited by Sze at 18/02/2012 00:43 ]



Image Attachment: HKBWS_HKULibrary_SwiftNests_01.jpg (18/02/2012 00:39, 74.98 KB) / Download count 439
http://www.hkbws.org.hk/BBS/attachment.php?aid=10750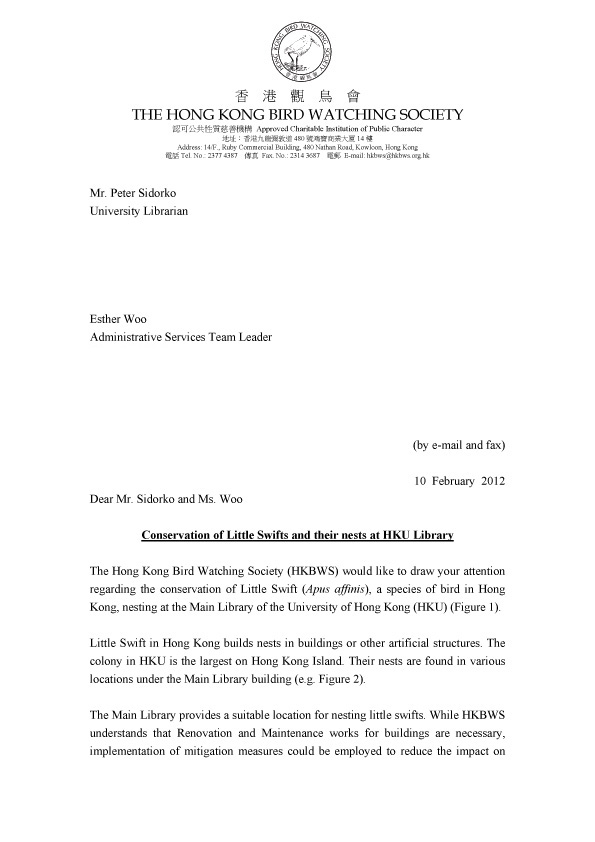 Image Attachment: HKBWS_HKULibrary_SwiftNests_02.jpg (18/02/2012 00:39, 40.42 KB) / Download count 419
http://www.hkbws.org.hk/BBS/attachment.php?aid=10751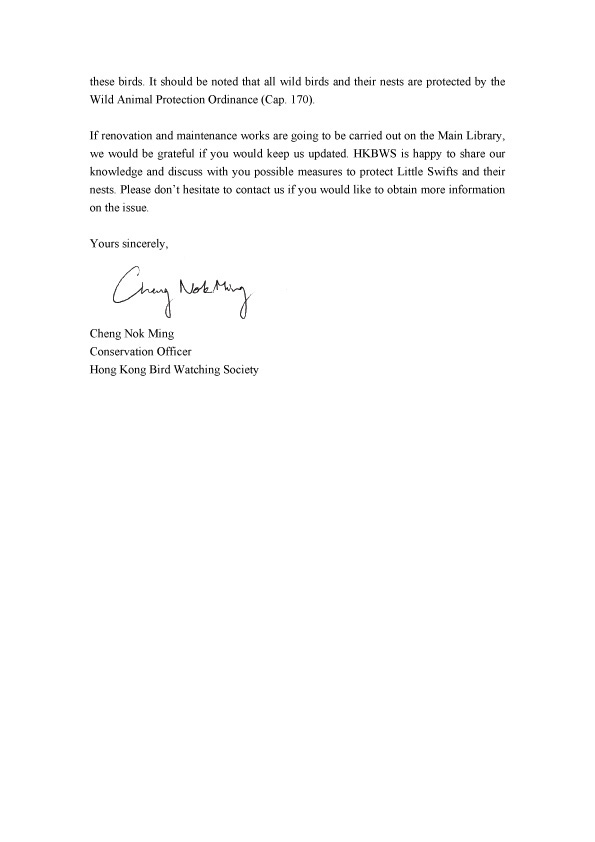 Image Attachment: HKU_20120214_SwiftNests.jpg (18/02/2012 00:39, 109.69 KB) / Download count 408
http://www.hkbws.org.hk/BBS/attachment.php?aid=10752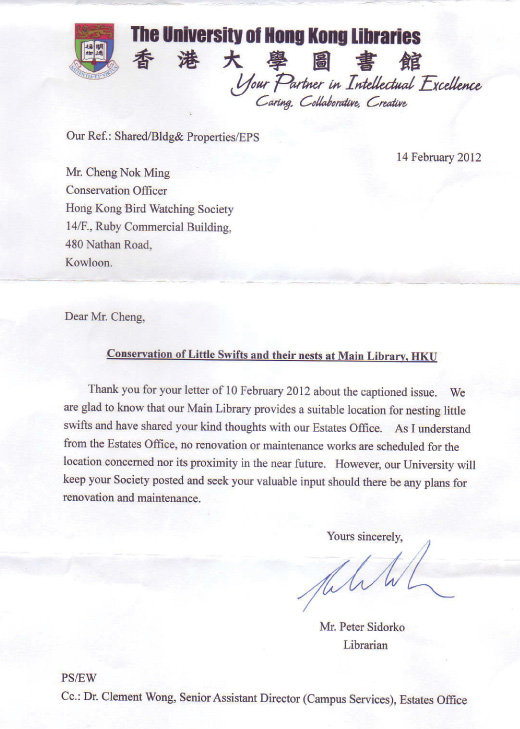 ---
Author: mteresa Time: 18/02/2012 14:40

Worth to note that people occasionally found injured or fallen little swifts on the floor at the staircase under library complex.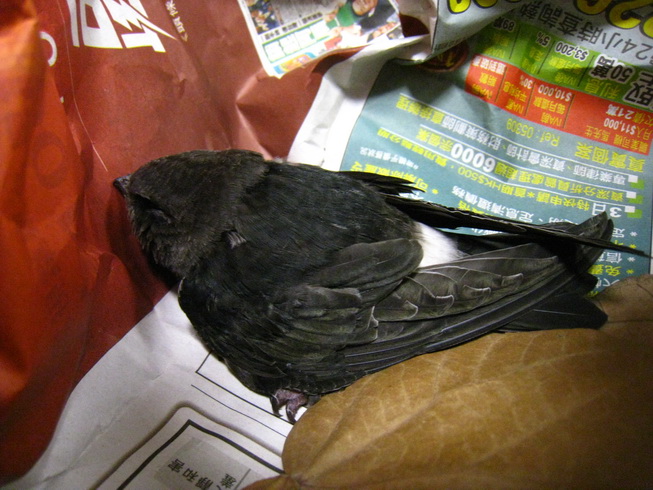 The Little swift in the picture was found at night (around 8 pm) on 6th August, 2011, it was lying at the junction of library staircase and Kadoorie Biological Sciences Building, where many people walk by. After screening, the swift did not have obvious injury and it barely flap its wings. To prevent further injury it was gently moved to a paper box and sent to Kadoorie Farm and Botanic Garden for veterinary check on the second day. The swift received appropriate treatment and waiting for release in the wild but unfortunately it died two weeks later. I believe there could be cases of swifts fallen on the ground which did not receive proper attention. Can HKBWS suggest any proper guidance for anyone who encountered swift on the floor?



Image Attachment: Little swift_resize.jpg (18/02/2012 14:40, 131.36 KB) / Download count 430
http://www.hkbws.org.hk/BBS/attachment.php?aid=10753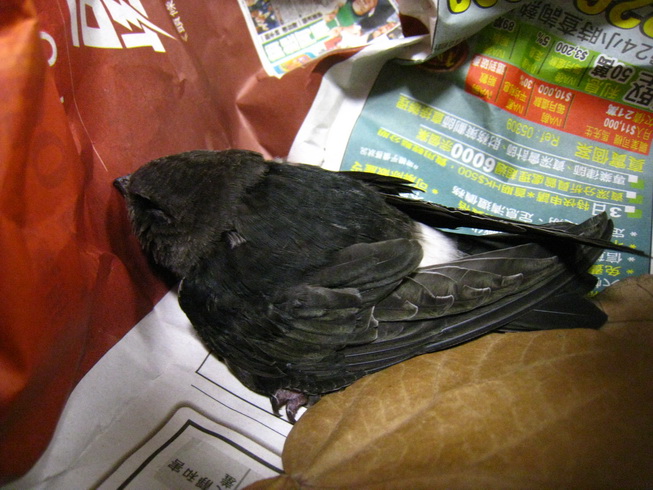 ---
Author: HFCheung Time: 18/02/2012 20:52

Unfortunately the laws in HK in this area is very strict. Only very few professional are allowed to handle birds. So right now, the best way seems to be to call AFCD for help. If the bird need to be transfer to Kadoorie, then AFCD will do it.

I hope HKBWS can organise a team of volunteers to help picking up birds on the street, and provide immediate care if necessary, and also take up the duty to transfer birds to Kadoorie if necessary. I think we can convince AFCD to grant us the permit to do so, provide that we are properly trained and guided by Vets to do this correctly.

HF Cheung
---
Author: mteresa Time: 19/02/2012 00:14

We attempted to call AFCD but it was a Friday night outside office hour and no staff will handle the bird on Saturday, that's why we decided to send the bird directly to KFBG, because we concerned about the bird's condition more than coping with official procedures. I am particularly concern with the bird's safety during non-office hour. Otherwise it's hopeless to see the bird dying on its own while we citizens have to aware of avian flu etc.

Your suggestion to train volunteer is also good, hopefully AFCD and Health Department will consider it.
---
Author: Sze Time: 19/02/2012 00:49

Hi mteresa,

First, deeply thanks for your sharing and rescuing the swift, although it was died finally.
I am sadly to tell you that Little Swift fallen on the ground is sometime quite common and mortality rate is quite high. It may because they are small birds and they may get a internal serious injury when they fallen from a high place.

In Hong Kong, there are 2 Animal Rescue Hotline, one is 1823 (AFCD) and another is 2711 1000 (SPCA Animal Rescue and Cruelty Investigation 24 hours hotline).
If you meet the fallen Little Swift again, please call either these 2 hotline ASAP. And both the staff of these 2 dept./org. will send the bird to KFBG Animal Recue Center.

And your sharing made me thinking about that whether we can post some notice around the staircase to tell the people can try to save the fallen swift by calling these 2 Animal Rescue Hotline.
We may try to contact HKU again later.

Thanks for your kindness and sharing again!

[ Last edited by Sze at 19/02/2012 01:10 ]
---
Author: mteresa Time: 19/02/2012 21:53

Thank you Sze,

Though this is kind of sad to know the swifts fallen onto the ground are prone to death, I appreciate your extra suggestions of the hotlines and possible signs to be put up on the area concerned, as many students or staff have no idea how to deal with the birds on the ground.

Teresa
---
Author: Sze Time: 20/02/2012 20:05

Hi Teresa,

May I seek for your help that do you have any idea which can help us to get a permission to post the notice in campus quickly? Thanks a lot!
---
Author: mteresa Time: 21/02/2012 00:07

Yes may be I can ask the Estate Office of HKU and corresponding units about the notice.

Teresa
---
Author: Sze Time: 21/02/2012 11:59


If you get any further information about the application, please send me a P.M.
We hope we can post the notice at the early stage of the coming breeding season.

Thanks for your big help again.

---
Author: HKBWS Chuan Time: 21/02/2012 12:49


---
Author: mteresa Time: 22/02/2012 00:11

It's a bit complicated in HKU system when I am looking up any related unit apart from Estate Office, unlike CUHK that Safety office will take care of wildlife as well. I need to check and send email to ask which division is responsible, and PM Sze and HKBWS as soon as possible.
---
Author: Sze Time: 22/02/2012 23:22



Thank you so much for your Big Help.

---
Author: mteresa Time: 1/03/2012 20:30

Estate Office replied that no one should get close contact to any live bird. If any one spotted the bird on ground, it is recommended to contact Security Office which will later on reach AFCD for follow-up. It is not suggested to put on the sign as well in the area concerned.
I guess the current solution is alright since Security Office is 24-hour. I hope their staff have adequate training on bird handling.

Teresa
---
Author: Sze Time: 2/03/2012 01:43


I understand the H5N1 is a big worry to the campus. But I think I still can try to ask them post some notice around there to tell staffs and students where they can ask for help when they find a swift fell on the floor.




---