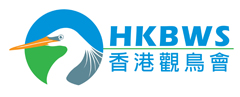 Subject: Ng Tung Chai 梧桐寨 Autumn 2008 秋 [Print This Page]

---
Author: Beetle Time: 11/09/2008 17:20 Subject: Ng Tung Chai 梧桐寨 Autumn 2008 秋

A walk from 10:30am to 2:00pm

Not much seen/heard in the country park area between the temple and the two waterfalls.

-Mountain Bulbul
-Mountain tailorbird
-Silver-eared Mesia and Red-billed Leiothrix
-etc... common birds.

On the way back i found a Asian Paradise Flycatcher.
It was with the scarlet minivets, bulbuls and sunbirds.
Luckily i got nice views of it.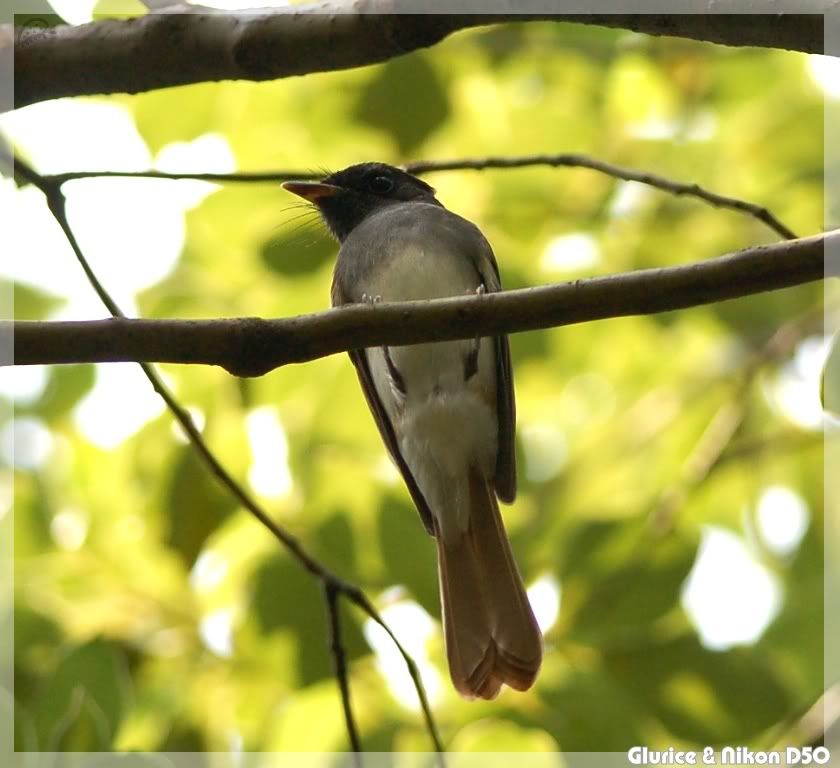 [ Last edited by Beetle at 11/09/2008 23:53 ]
---
Author: kmike Time: 13/09/2008 21:41

This morning I walked up to the lower falls starting at 0730.

Migrants today: Two each of Pale-legged /Sakhalin Leaf Warbler, Arctic Warbler and Hainan Blue Flycatcher (a male and a female)

A pair of Crested Serpent Eagles and a displaying Crested Goshawk added some interest.

Back in the veggie patch at Ping Long the Black-necked Starling creche was at least 60 birds - the soil is newly turned and planted after lying fallow for couple of months, so there are lots of worms available.

other than birds an adult Red-necked Keelback showed well at the side of the path and a newly minted Blue-tailed Skink was just my third ever in HK. It is are a stunning lizard - its well worth having a look here.

Cheers
Mike K
---
Author: Beetle Time: 12/10/2008 00:34

Nothing special seen today in Ng Tung Chai....probably because i was visiting in the afternoon.
Only one Paradise Flycatcher was seen from distance, but i am not sure is it an Asian or a Japanese.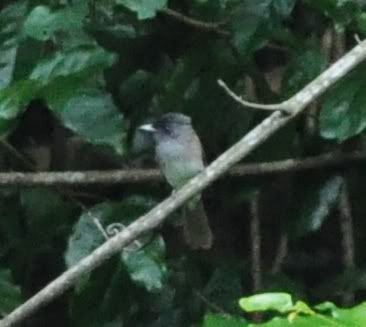 Besides there is an unknown small-sized bird, producing strange "tack tack" sound (different from dusky warbler) inside dense bushes near the ground, about 100m before the bottom fall. see if anybody lucky enough to identify it.(Lesser shortwing??)

[ Last edited by Beetle at 12/10/2008 00:37 ]
---
Author: whomoya Time: 25/10/2008 18:57

25/10/08

I was kindly acquainted to the joys of birding Ng Tung Chai this morning by the man who knows it best- Mike Kilburn (thanks Mike!). Had a few decent bird waves, and I was able to add a few ticks to my modestly growing Hong Kong list (nearing 200 now).

- 1 Eurasian Woodcock was probably bird of the day. Per usual, it was solitary and sitting just above a small, sheltered stream.
- 2 Asian Paradise Flycatchers were quite nice to see, as well as a couple of Mountain Bulbuls.
- Other birds of note: Scarlet and Grey-throated Minivets, two Grey-cheeked Fulvettas, a few Mountain Tailorbirds, two Arctic Warblers, an Eastern Crowned Warbler, a few Streak-breasted Scimitar-babblers, a Black-winged Cuckoo-shrike, one Olive-backed Pipit, and several Rufous-capped Babblers, Silver-eared Mesia, Blue-winged Minla, and Chestnut Bulbuls.

Good birding,
Wes Homoya
whomoya@yahoo.com
---
Author: HKBWS Surveyor Time: 29/10/2008 15:52

Records from 27Oct, between the temple and main fall

Arctic Warbler - 1
Eastern Crowned Warbler – 2
Goodson's Leaf Warbler – 1
Yellow-browed Warbler – 6+
Greenish Warbler - 1
Asian Stubtail – 1
Dark-sided Flycatcher – 1
Grey-headed Flycatcher – 1
---
Author: kmike Time: 23/11/2008 00:26

I finally got out into the forest behind Tai Om today and it was well worth it.

Before that I had a surprise in the shape of a female Plaintive Cuckoo in the Cuckooshrike tree (which did, again, have a female Black-winged Cuckooshrike in it today), and a trio of Chestnut Buntings in front of the blue and white house across the valley from me. Birds washing in the stream just here included a female Fork-tailed Sunbird, three Black-throated Laughingthrushes (showing the all-dark cheeks we see on some birds here) and a turdus sp. , which squeaked as it whipped out before I could get onto it.

As I went up the hill opposite the house I picked up an Asian Brown Flycatcher in the feng shui wood behind Tai Om village, and a couple of Hair-crested Drongosregally surveying the scene from the crown of a tree, and then nothingat all until I had crested the hill and dropped down into the forestaround the abandoned village of Tai Om Shan.

The first good birds here were a singing Fork-tailed Sunbird and a Yellow-browed Warbler, swiftly followed by the first of four Asian Stubtails.These are one of my favourite winter birds - small as a wren, a tinystub of a tail, dark chestnut upperparts, a big cream supercilium andblack eyestripe , pale pinkish feet, and a very confiding manner (theyare easily pished in) combine with a distinctive call and piercing songto make them birds of real character.

Other warblers included a very active Blyth's Leaf Warblera surprise Yellow-bellied Prinia away from its more usual grassland habitat, Common and Monuntain Tailorbirds and a couple each of Yellow-browed and Pallas' Leaf Warbler.

Other good new winter records for the valley included a vocal Black-naped Monarch giving its rasping double "jreek-shreek", five Oriental Turtle Doves, and a curious Rufous Tailed Robinwhich sat unusually high, flicking its wings and tail as it examined mebefore dropping back to the tangles on the forest floor.

I was also happy to lure in a Lesser Shortwing to acorridor of visibility through the undergrowth where I could see himand he could see me, but with sufficient distance between us for him tofeel safe. Its always feels special to see this small secretive birdwith a short silvery white eyebrow flicking into view and calling a fewtimes before disappearing again.

Other good birds included a female Grey-chinned Minivet, several Chestnut Bulbuls, and an adult Crested Serpent Eagle, which I flushed on the way out of the forest.

Other than these there were good numbers of Rufous-capped Babblers, three Streak-breasted Scimitar Babblers, while around the house the usual suspects added to a pretty good list for the day: Crested Myna, Black-necked Starling, Chinese and Crested Bulbuls, Chinese Pond Heron and White-breasted Waterhen, White-throated Kingfisher, Olive-backed Pipit, White and Grey Wagtails, Tree Sparrow, Siberian Stonechat, Chinese Blackbird, Spotted Dove, an unusually large flock of of 100 Scaly-breasted Munias, and a Great Tit.

I'm hoping the Silky Starling, which has now been around for three days, will stay for the winter.

Cheers
Mike K
---
Author: wgeoff Time: 23/11/2008 03:54

Welcome back, Mike. Good birds.
---
Author: kmike Time: 23/11/2008 14:19

Thanks Geoff. I was out again this morning:

Another couple of hours in the forest this morning, and again a couple of additions to the winter list just around the house - a female Black-faced Bunting was ticking quietly to itself on the way out, and on the way back a female Daurian Redstart showed briefly before being chased off by a Crested Bulbul.

This was really "Skulkers Sunday" - Lesser Shortwing, Pygmy Wren Babbler and Russet Bush Warbler all showed, albeit briefly, except for the PWB, which put on a pretty good show in response to my pishing. The shortwing appeared when I was trying to tease out one of two Russet Bush Warblers which, being bradypterus were extremely reluctant to show, but eventually flipped out of the grass and away after sneaking in as close as it dared.

I also heard and did not see a Siberian Rubythroat - with its miniature bark, a Rufous-tailed Robin, several Asian Stubtails, Yellow-browed, Dusky and Pallas' Leaf Warblers.

Birds not seen yesterday included a Crested Goshawk and a Common Buzzard, a Red-throated Flycatcher, and a male Buff-bellied Flowerpecker, while the flock of 50 Grey-chinned Minivets were a dramatic improvement on yesterday's lone female.

The male Black-naped Monarch was not new, but this morning I had much better views of this charismatic winter visitor.

Mystery of the day was hearing a Black-throated Laughingthrush giving the distinctive "one more bot-tle" call of Indian Cuckoo. This is strange because Indian Cuckoo is a pretty scarce migrant and I have only heard it in the valley on two or three occasions in the last 6 years, and Black-throated Laughingthrush is thought to be rather sedentary. This strongly suggests an impressive feat of memory - hearing a call a few times in a day and then repeating it accurately several months later.

Cheers
Mike

[ Last edited by kmike at 23/11/2008 14:22 ]
---
Author: kmike Time: 30/11/2008 19:34

A quieter day today, despite going up the waterfall trail - 2 each of Rufous-tailed Robin, Asian Stubtail and Grey-backed Thrush (both males), about 15 Chinese Blackbirds a Velvet-fronted Nuthatch on the big tree above the carpark.

I did finally get reasonable views of both Yellow-browed and Pallas' Leaf Warblers for the first time this winter, but had only the briefest of views of a larger phyllosc which may have been a Greenish Warbler.

Other than that a Mountain Tailorbird and a Mountain Bulbul performed well and a small group of Red-billed Leiothrix were more confiding than usual.

However I again failed to connect with Grey-headed Flycatcher (haven'teven heard one yet this winter), and Red-Flanked Bluetails also appearto be in short supply.

Perhaps more interesting were two Swintail Snipe in the village yesterday morning, and a flock of 20 Silky Starlings and a lovely male Daurian Redstart feeding in a tree next to the Pin Long bus stop.

Also as I came hoe this evening a Night Heron flew over the village

Cheers
Mike K




---