About Black-faced Spoonbill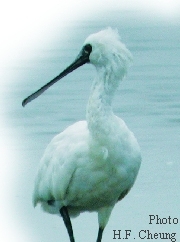 Black-faced Spoonbill is a member of the family Threskiornithidae and the order Ciconiiformes. This worldwide family includes ibises and spoonbills, and comprises 28 species. In the genus Platalea (spoonbills), there are only six species. African Spoonbill is restricted to Africa. The beautiful pink Roseate Spoonbill is found in North and South America. In Australia, there are two species - Yellow-billed Spoonbill and Royal Spoonbill. Eurasian Spoonbill and Black-faced Spoonbill can be seen in Asia. The world population of Black-faced Spoonbill is about a thousand, and it is classified as "Endangered" species by BirdLife International.

History in Hong Kong
The first Black-faced Spoonbill was collected and named in 1849. In the early 1900s, the English ornithologist, J.D. La Touche, noted that Black-faced Spoonbill was not uncommon in the southeastern coast of China. The first official local record of Black-faced Spoonbill in Hong Kong was made by the Hong Kong Bird Watching Society on 14 November 1956 in Mai Po Marshes. According to The Avifauna of Hong Kong, the number of Black-faced Spoonbills remained below 35 in the early 1980s; however, it gradually increased during the 1990s, and exceeded 200 in winter of 2001-02.