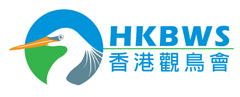 Subject: 米埔設施改善Mai Po upgrade works [Print This Page]

---
Author: HKBWS Chuan Time: 14/07/2017 17:36 Subject: 米埔設施改善Mai Po upgrade works

世界自然基金會香港分會將會於米埔自然保護區(MPNR)內進行設施改善工程,項目包括翻新米埔教育中心(MPEC)、擴闊由MPNR入口到MPEC的行人道、擴大#8塘的觀鳥塔、在#8及#19塘加建新的觀鳥塔,並加建新的環迴行人道。

該改善工程的工程項目簡介*現正接受公眾查閱。本會將會仔細研究文件,如有重要關注事項,稍後再與大家分享。

公眾諮詢截止日期:2017年7月27日(星期四)
公眾可以在環境影響評估網站(http://www.epd.gov.hk/eia/cindex.html)提交意見,或直接將意見電郵至eiaocomment@epd.gov.hk

*根據環境影響評估程序的技術備忘錄的附件1,工程項目簡介的目的是「讓署長可以決定:(a)與某一指定工程項目有關連且須於環境影響評估(環評)研究內加以處理的環境課題的範圍,以及環評研究須符合的技術和程序的規定;或(b)申請人可否直接申請環境許可證。」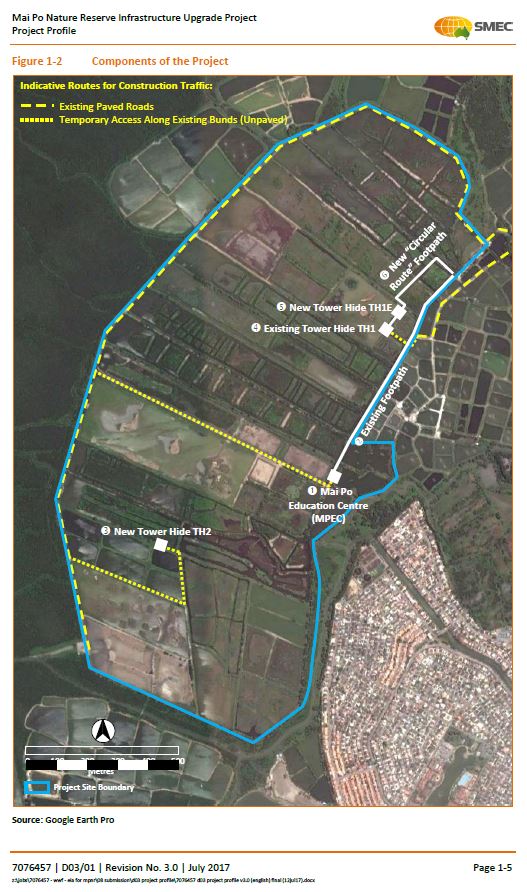 WWF - Hong Kong will upgrade some infrastructure within the Mai Po Nature Reserve (MPNR), which include refurbishment of the Mai Po Education Centre (MPEC), widening of the existing footpath between the entrance of MPNR to MPEC, expansion of the existing tower hide at pond #8, construction of new tower hides at pond #8 and #19, and construction of a new circular route footpath.

Today, the EIA Project Profile* of the upgrade works is displayed for public inspection. The Society will study the document carefully and will share if there are any significant concerns.

Deadline for comments: 27 July 2017 (Thu)
Comments can be submitted on the EIA website (http://www.epd.gov.hk/eia/index.html) or can be send directly to eiaocomment@epd.gov.hk

*According to section 2.1 of the Technical Memorandum on EIA Process, the purpose of an EIA project profile is to "enable the Director to determine: (a) the scope of the environmental issues associated with a designated project which shall be addressed in the environmental impact assessment (EIA) study, together with the technical and procedural requirements that the EIA Study shall meet; or (b) whether the applicant can proceed directly to apply for an environmental permit."



Image Attachment: components of the project.JPG (14/07/2017 17:36, 112.53 KB) / Download count 569
http://www.hkbws.org.hk/BBS/attachment.php?aid=30460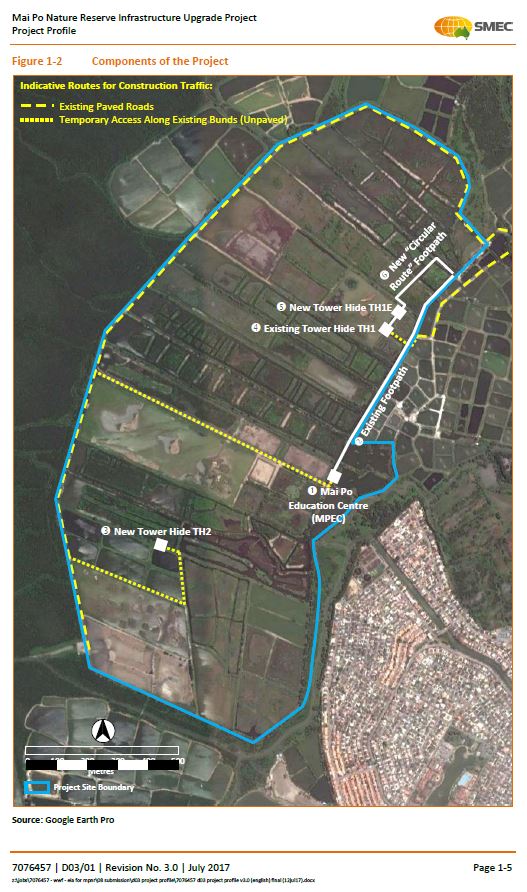 ---
Author: ajohn Time: 18/07/2017 17:25

I would encourage HKBWS members to look seriously into this EIA proposal, because it clearly affects those who visit Mai Po for birding, and is the largest development proposal ever inside the Ramsar Site, so is important for wetland conservation in Hong Kong.

For me, the most important issue in this development project is actually hidden away. In Section 2.3.1 of the proposal it mentions another project "Demolition and Re-construction of the Peter Scott Field Studies Centre (PSFSC) near MPNR". I believe that this is a major project causing major disruption to those using the reserve, and with potentially important conservation implications. However, it is impossible to judge the impacts because at the moment WWF have not revealed any details of the proposal publicly; they have not yet applied to the Town Planning Board for planning permission, but it is stated in the EIA application they expect to start work in April 2018 (less than a year from now).

Personally I believe that this project on its own should require an EIA, yet WWF have removed it from their EIA application. WWF actually treat this as a part of the same project (http://www.hkbws.org.hk/BBS/viewthread.php?tid=26456&extra=page%3D1), an the exclusion from this proposal appears to be an attempt to exploit a legal loophole (based on land zoning) to avoid this EIA requirement. I find this shameful approach to be absolutely disgraceful for an environmental organisation with the credentials of WWF.

It is within the rights of the Director of EPD to request that an EIA should be carried out on this project, and I recommend that HKBWS members with an interest should send in comments on the current proposal asking EPD to enforce the wetland protection of Deep Bay by requesting WWF to carry out an EIA on this PSFSC project.
---
Author: HKBWS Chuan Time: 21/07/2017 19:58

The Society's comments on the project profile:

20170721_MaiPoUpgradeWorks_PP_HKBWS.pdf (485.77 KB)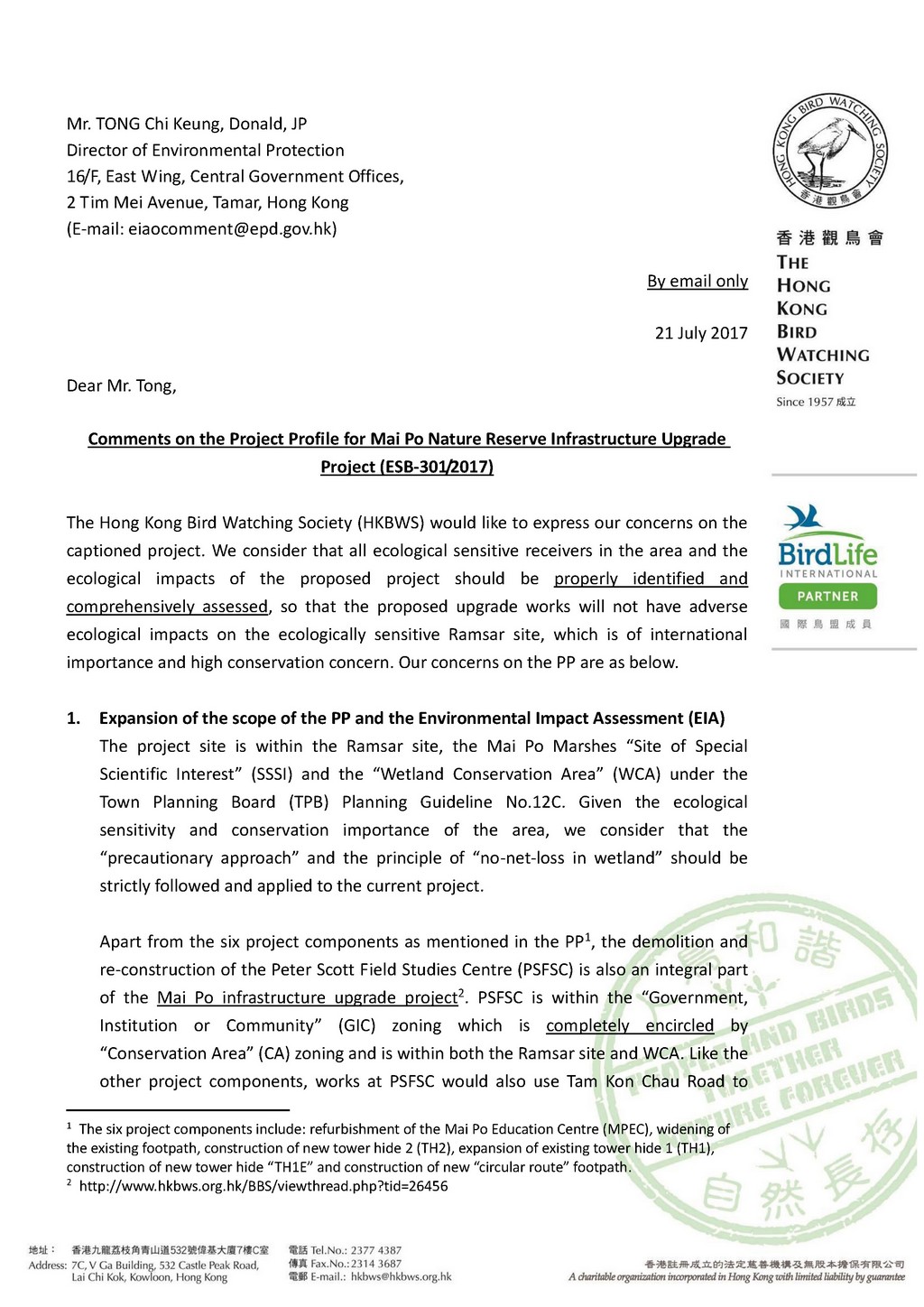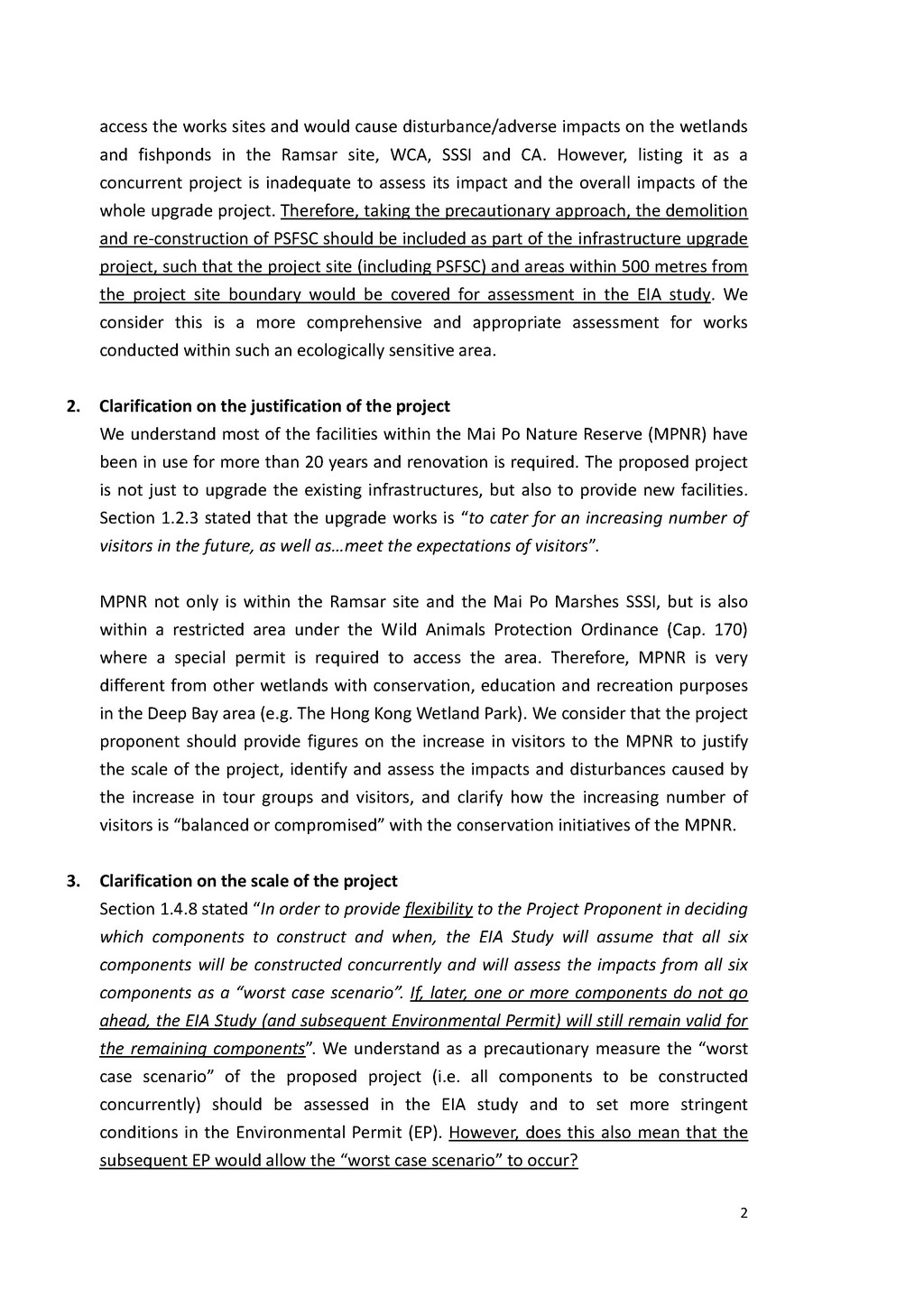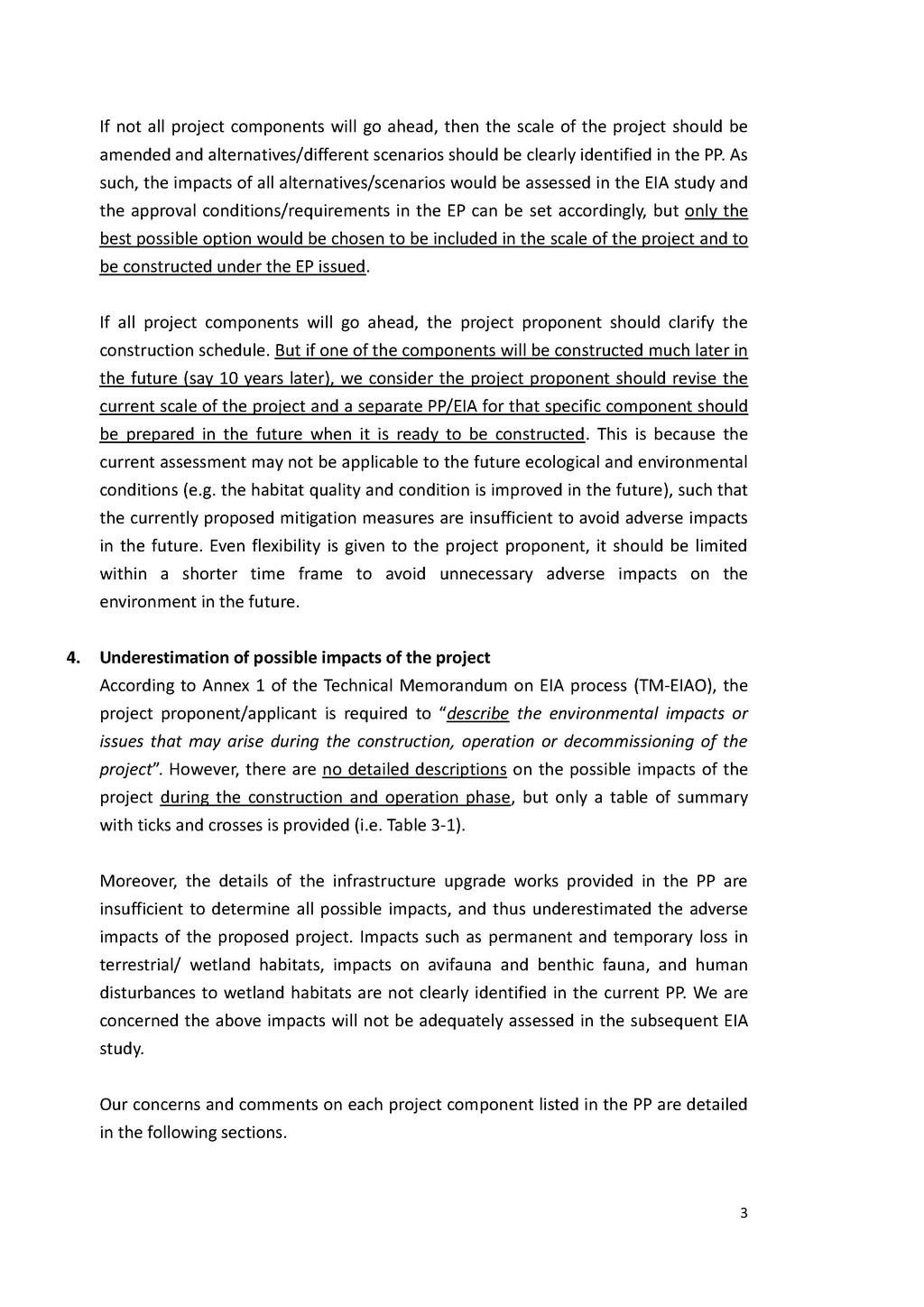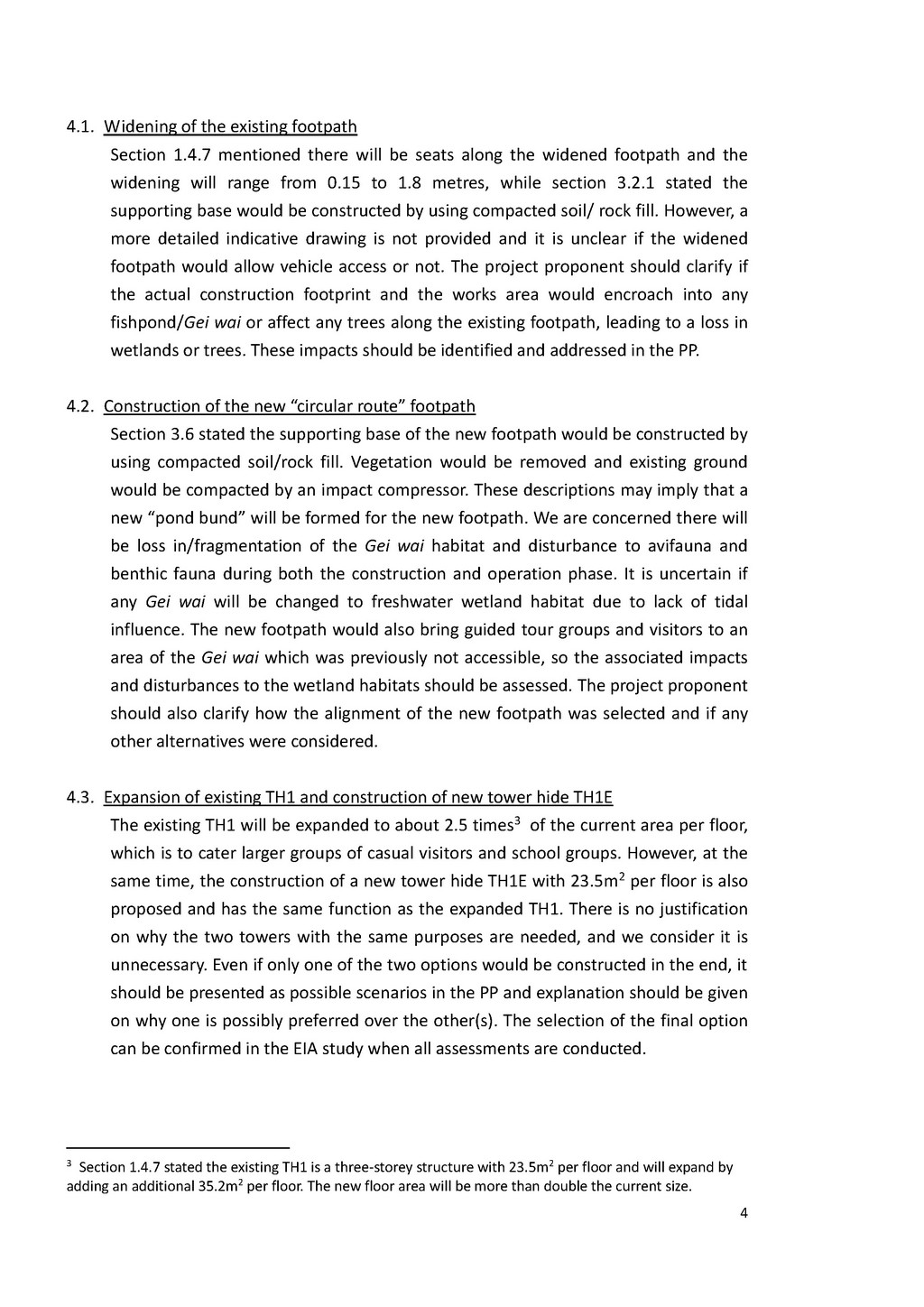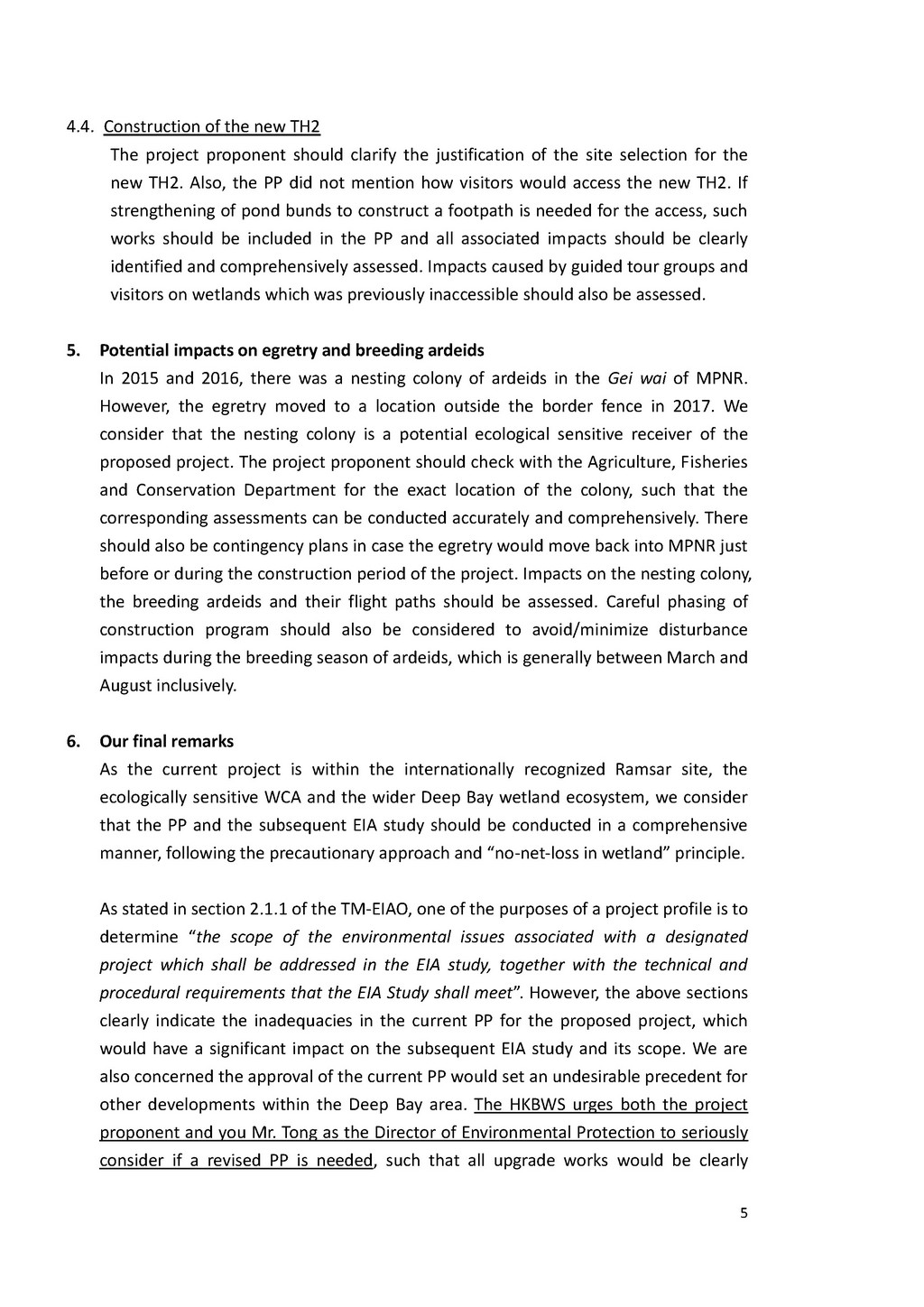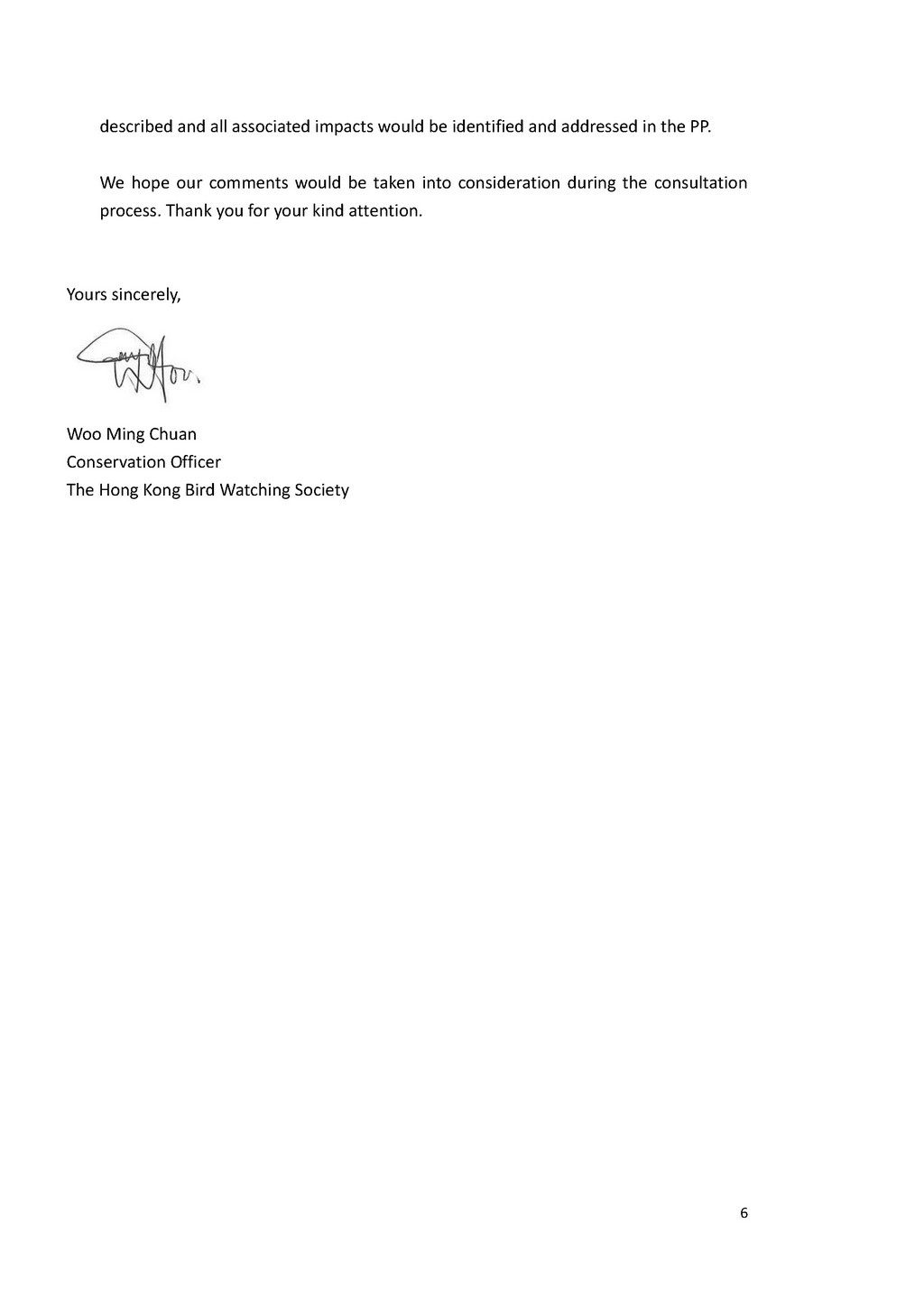 Attachment: 20170721_MaiPoUpgradeWorks_PP_HKBWS.pdf (21/07/2017 19:58, 485.77 KB) / Download count 690
http://www.hkbws.org.hk/BBS/attachment.php?aid=30492



Image Attachment: 20170721_MaiPoUpgradeWorks_PP_HKBWS_Page_1.jpg (8/08/2017 09:32, 304.05 KB) / Download count 553
http://www.hkbws.org.hk/BBS/attachment.php?aid=30520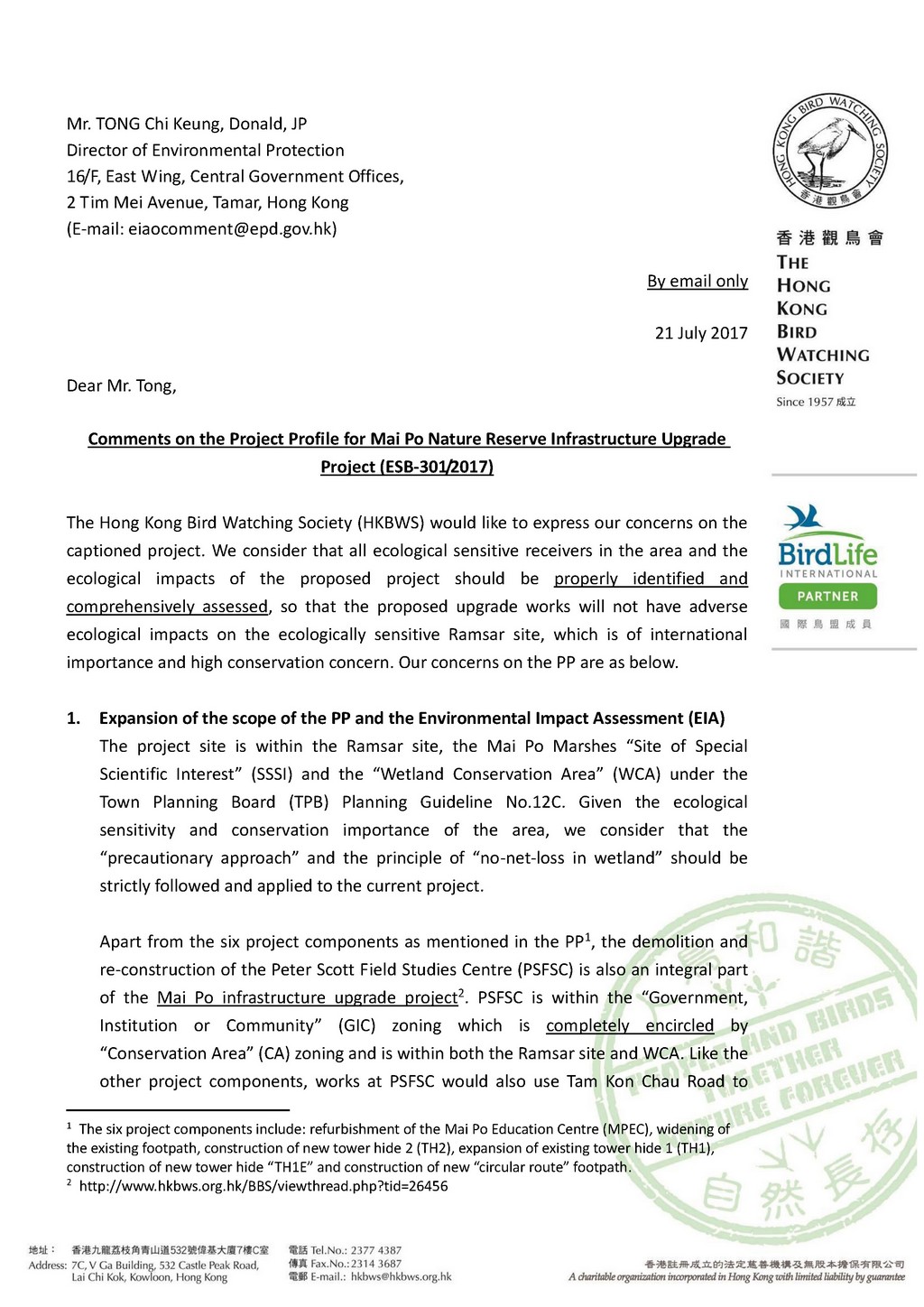 Image Attachment: 20170721_MaiPoUpgradeWorks_PP_HKBWS_Page_2.jpg (8/08/2017 09:32, 311.14 KB) / Download count 547
http://www.hkbws.org.hk/BBS/attachment.php?aid=30521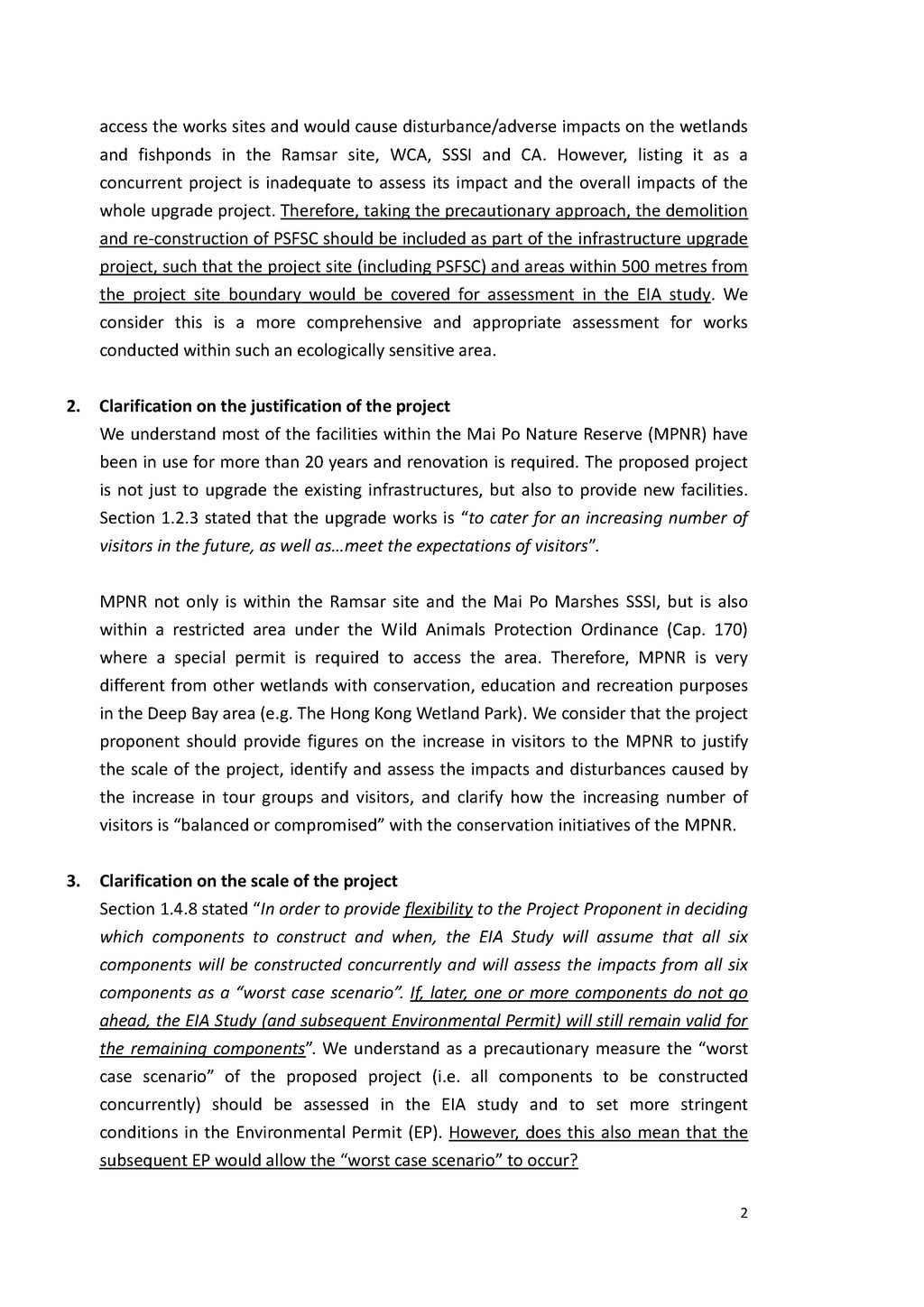 Image Attachment: 20170721_MaiPoUpgradeWorks_PP_HKBWS_Page_3.jpg (8/08/2017 09:32, 279.15 KB) / Download count 598
http://www.hkbws.org.hk/BBS/attachment.php?aid=30522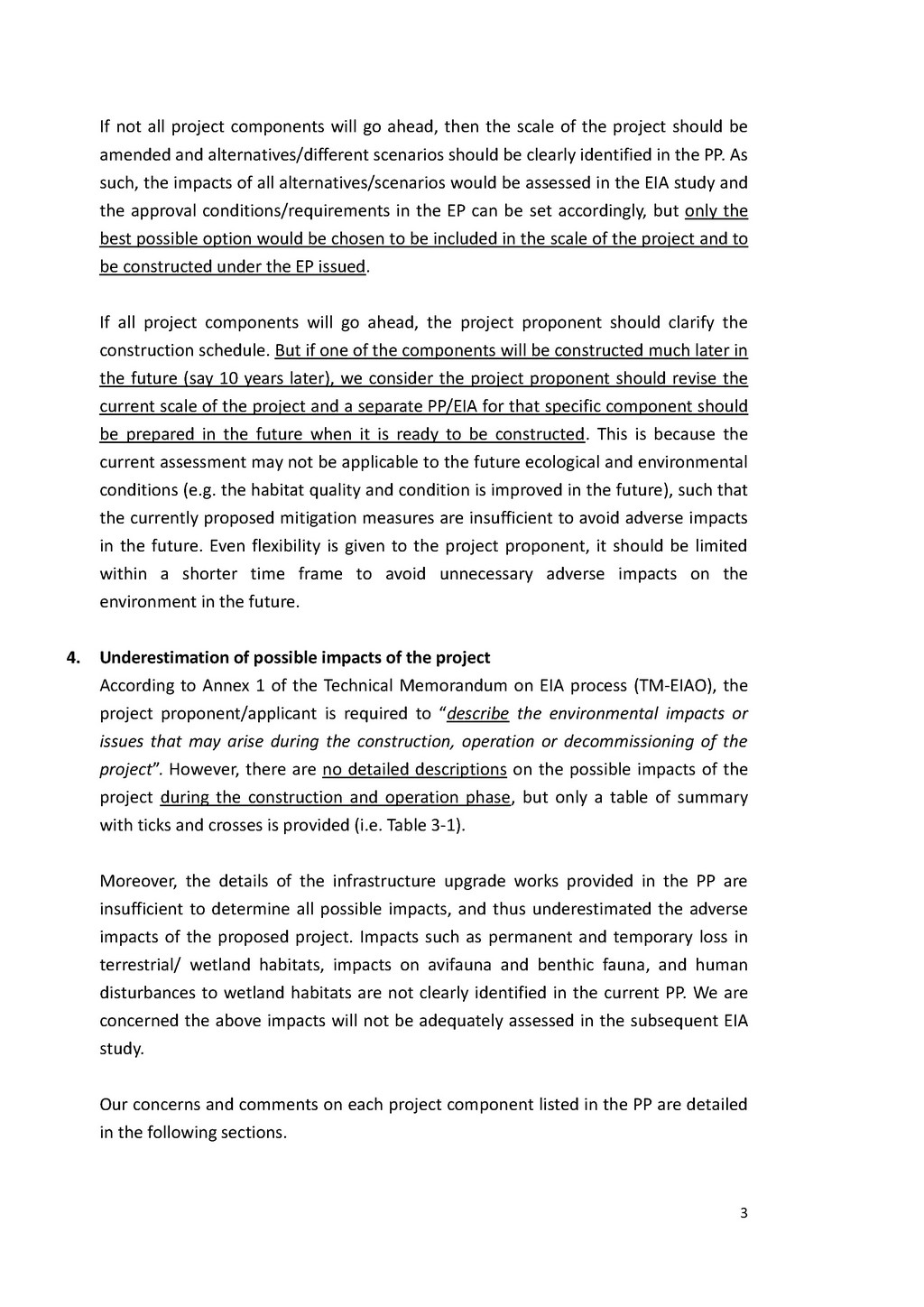 Image Attachment: 20170721_MaiPoUpgradeWorks_PP_HKBWS_Page_4.jpg (8/08/2017 09:32, 295.06 KB) / Download count 541
http://www.hkbws.org.hk/BBS/attachment.php?aid=30523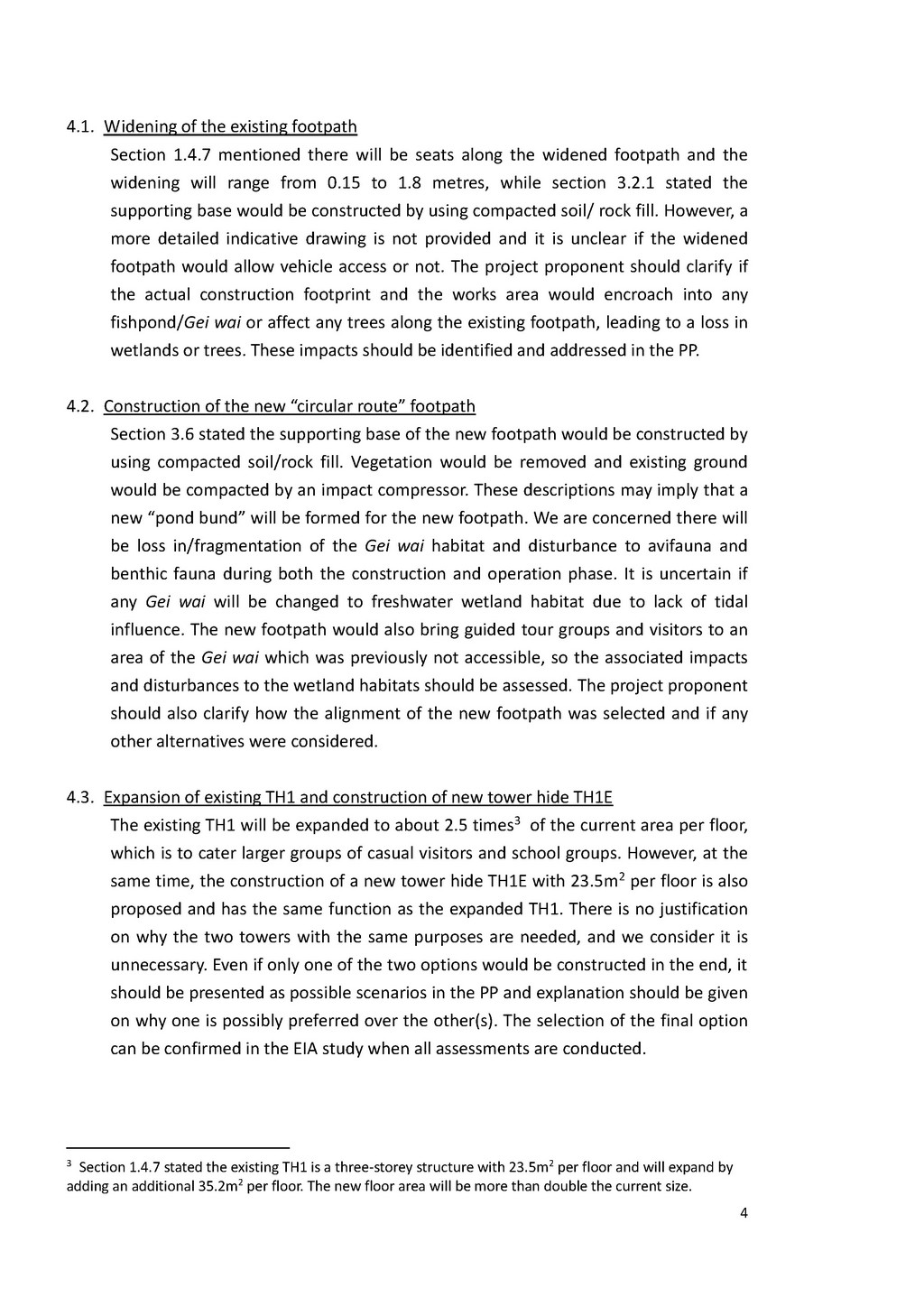 Image Attachment: 20170721_MaiPoUpgradeWorks_PP_HKBWS_Page_5.jpg (8/08/2017 09:32, 302.97 KB) / Download count 535
http://www.hkbws.org.hk/BBS/attachment.php?aid=30524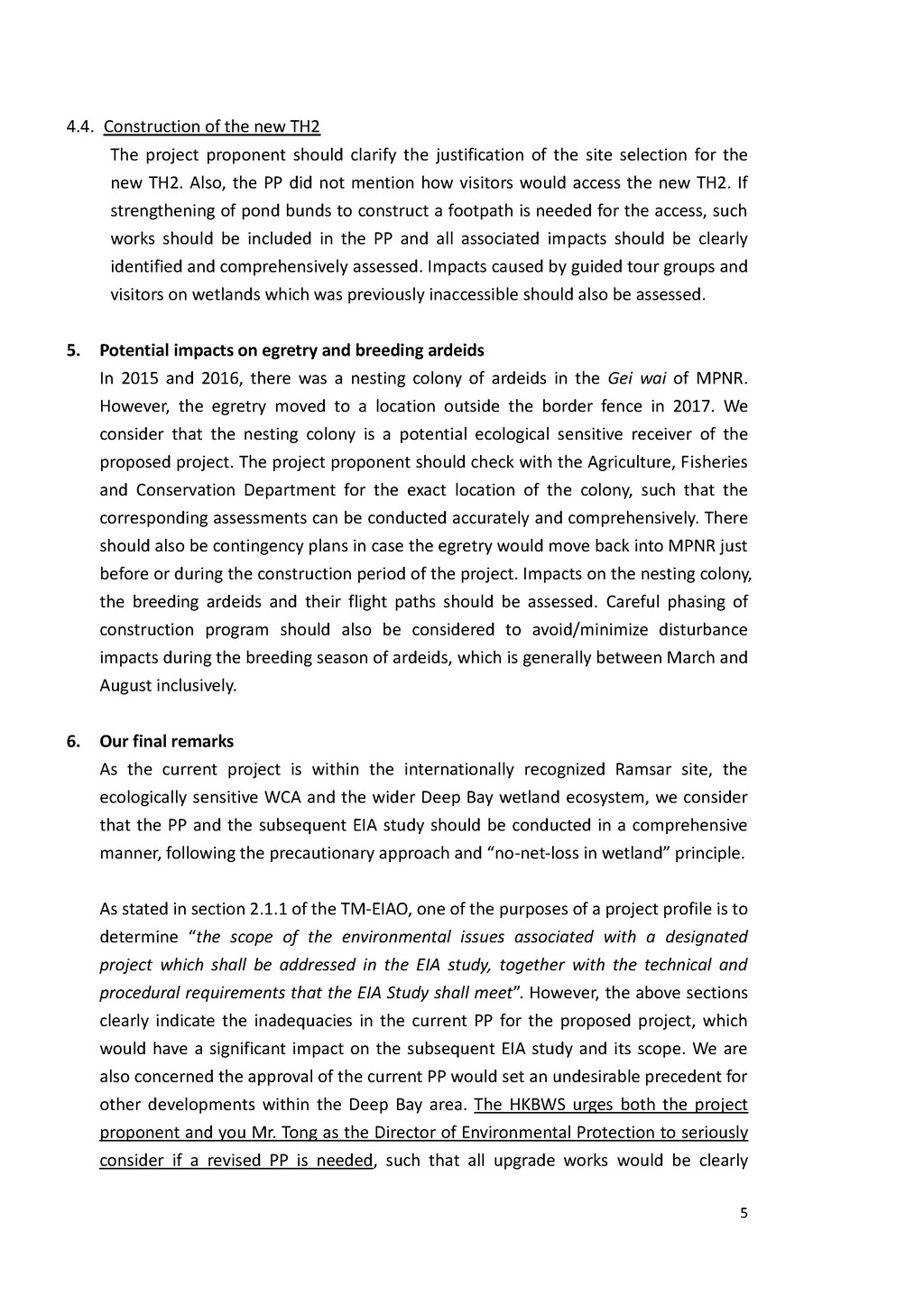 Image Attachment: 20170721_MaiPoUpgradeWorks_PP_HKBWS_Page_6.jpg (8/08/2017 09:32, 51.78 KB) / Download count 544
http://www.hkbws.org.hk/BBS/attachment.php?aid=30525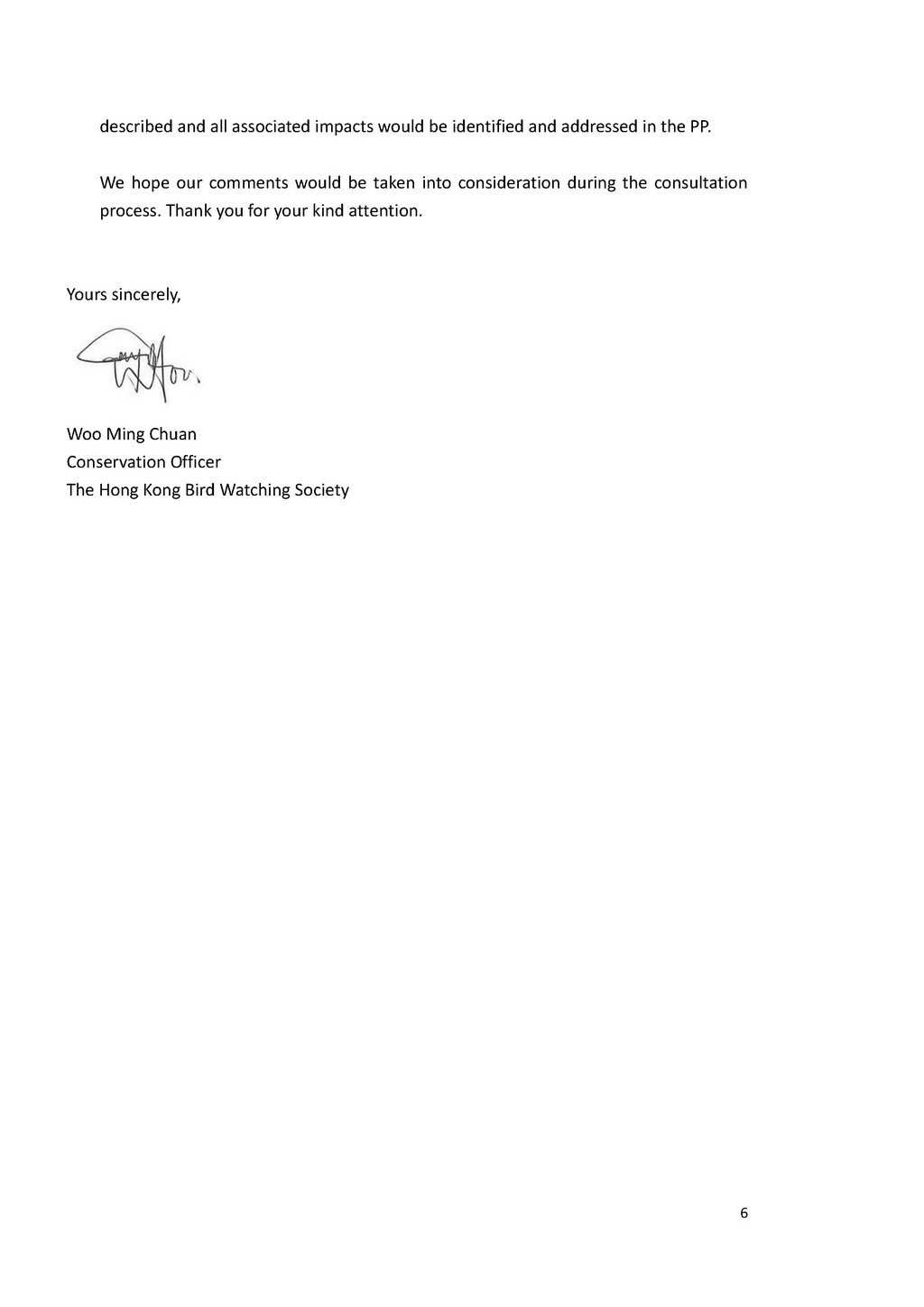 ---
Author: HKBWS Chuan Time: 8/08/2017 09:29

WWF's response to the Society's comments
世界自然基金會香港分會的回應


abbr_d977ff54c61be2976501bc210288d2a1.pdf (318.78 KB)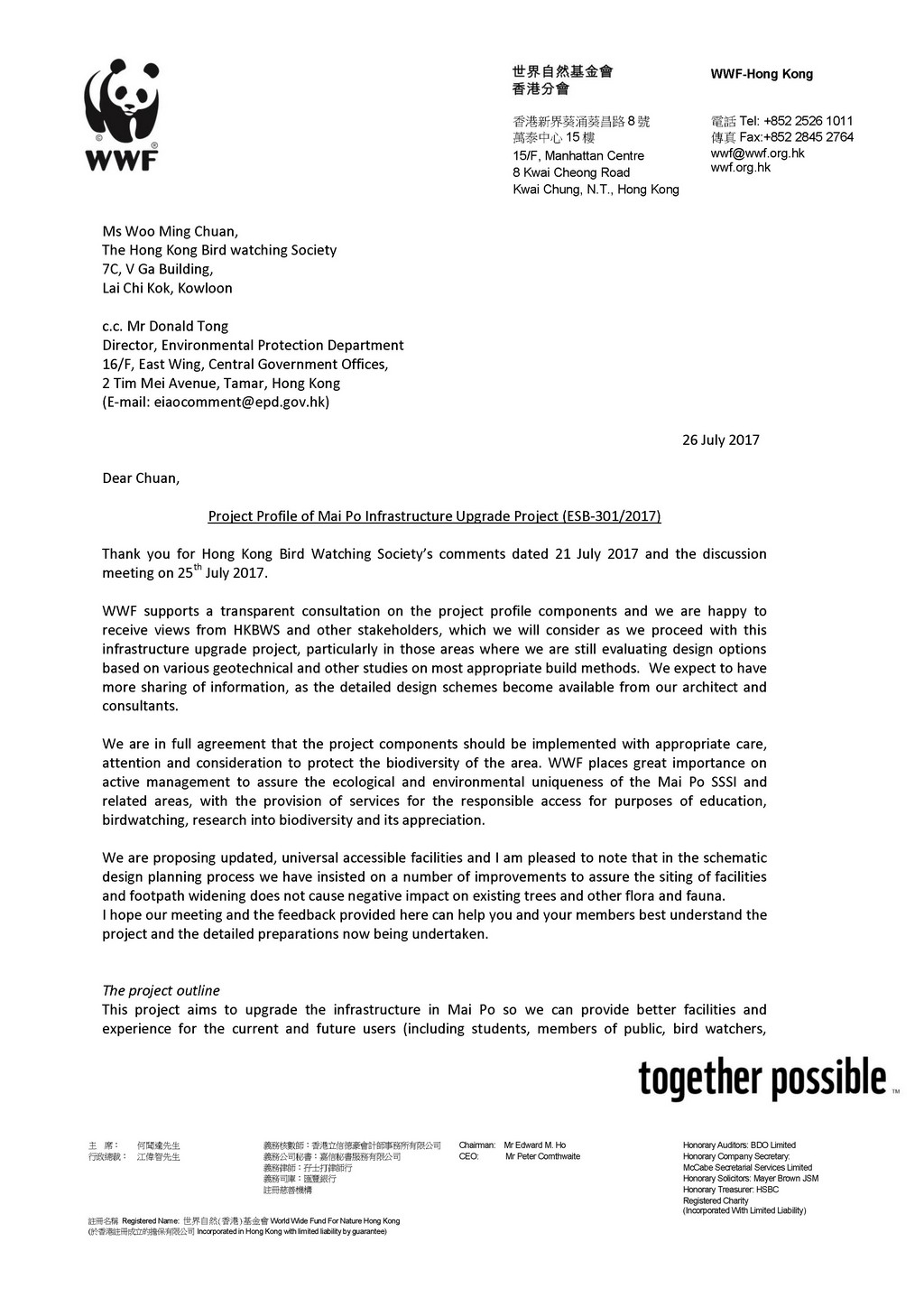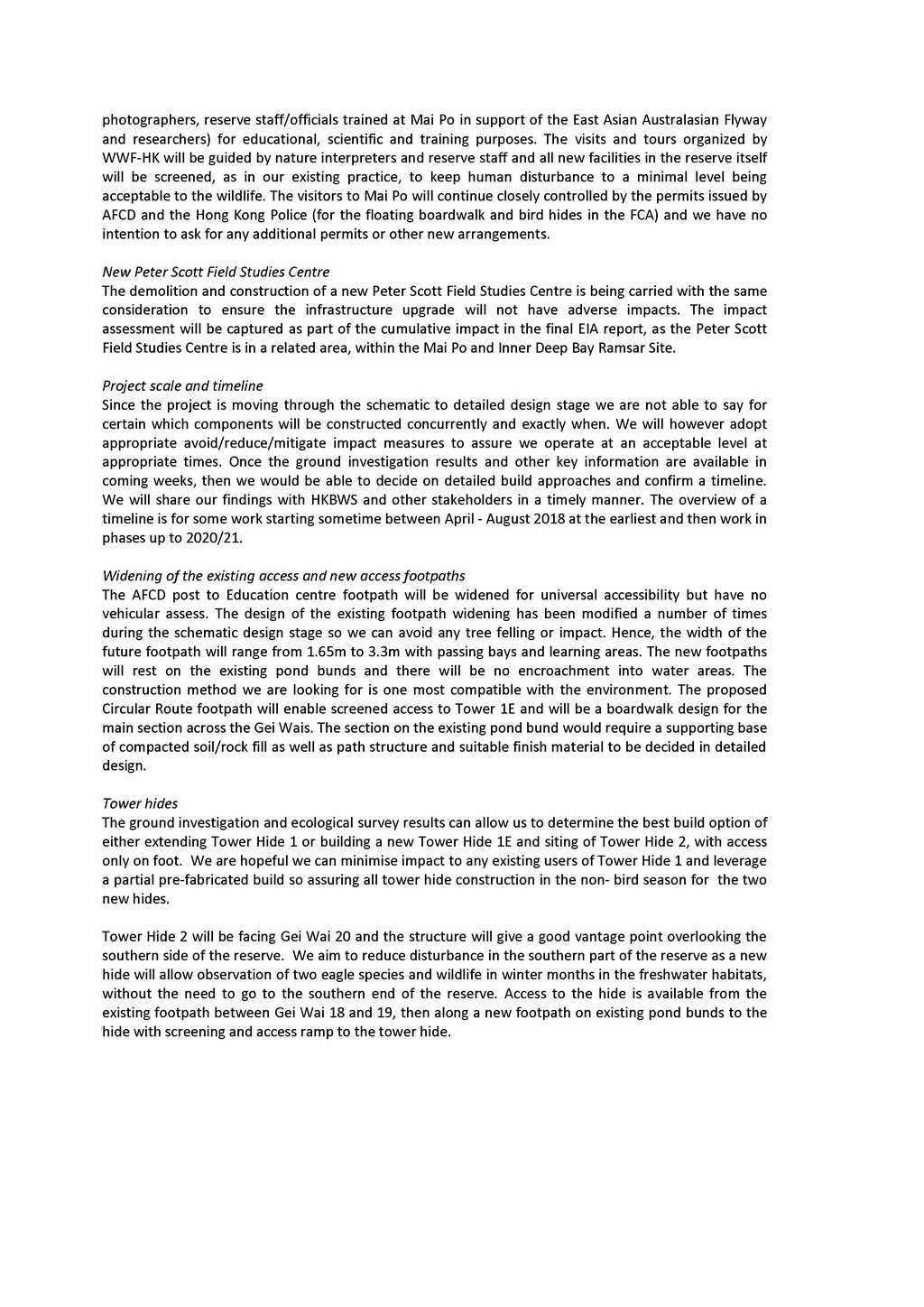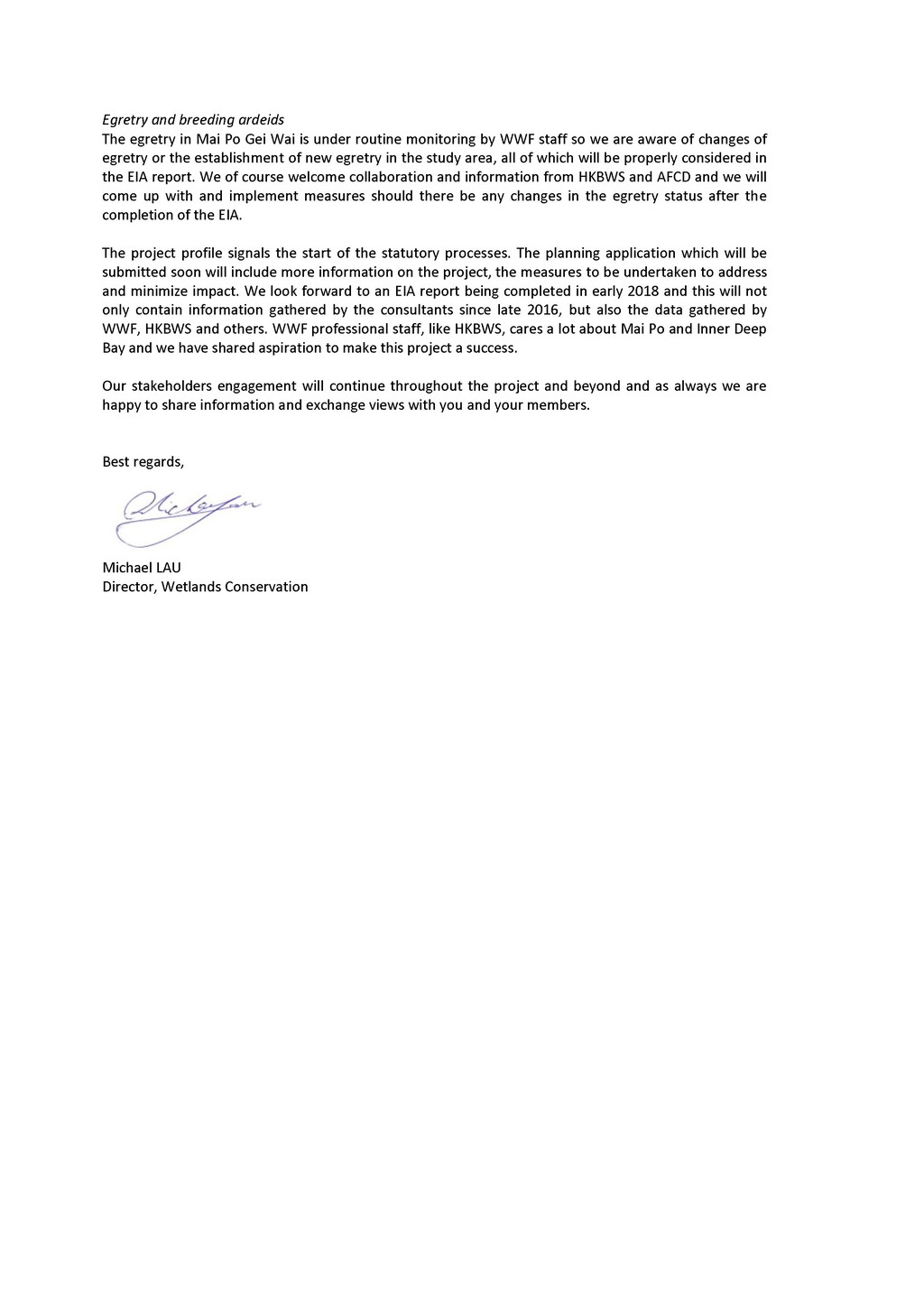 Image Attachment: abbr_fa989af8c327a2f5294260bcca4814b3.jpg (8/08/2017 09:29, 249.54 KB) / Download count 534
http://www.hkbws.org.hk/BBS/attachment.php?aid=30517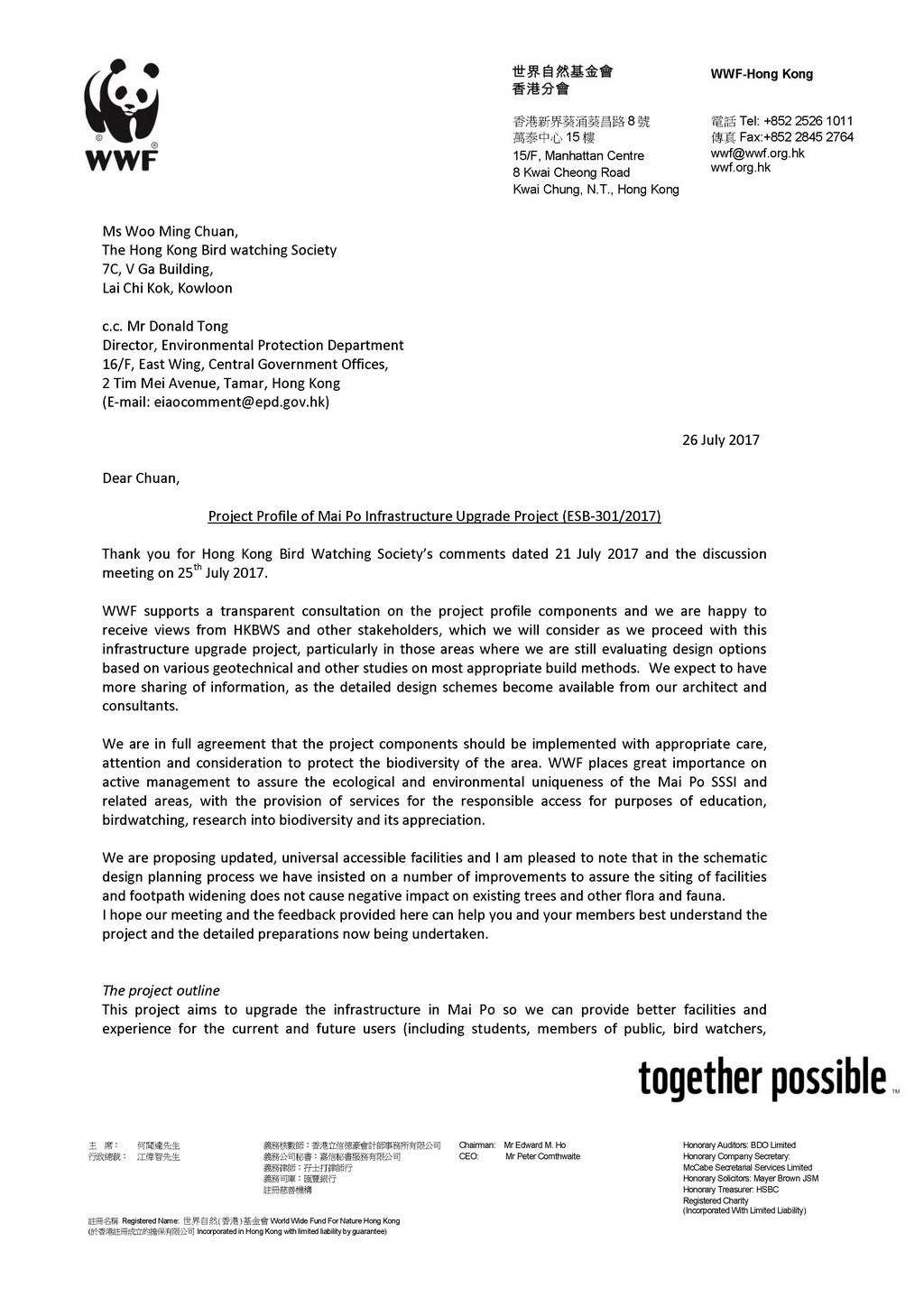 Image Attachment: abbr_d65cc530573324f4c8488c96c0bfcb0e.jpg (8/08/2017 09:29, 333.47 KB) / Download count 531
http://www.hkbws.org.hk/BBS/attachment.php?aid=30518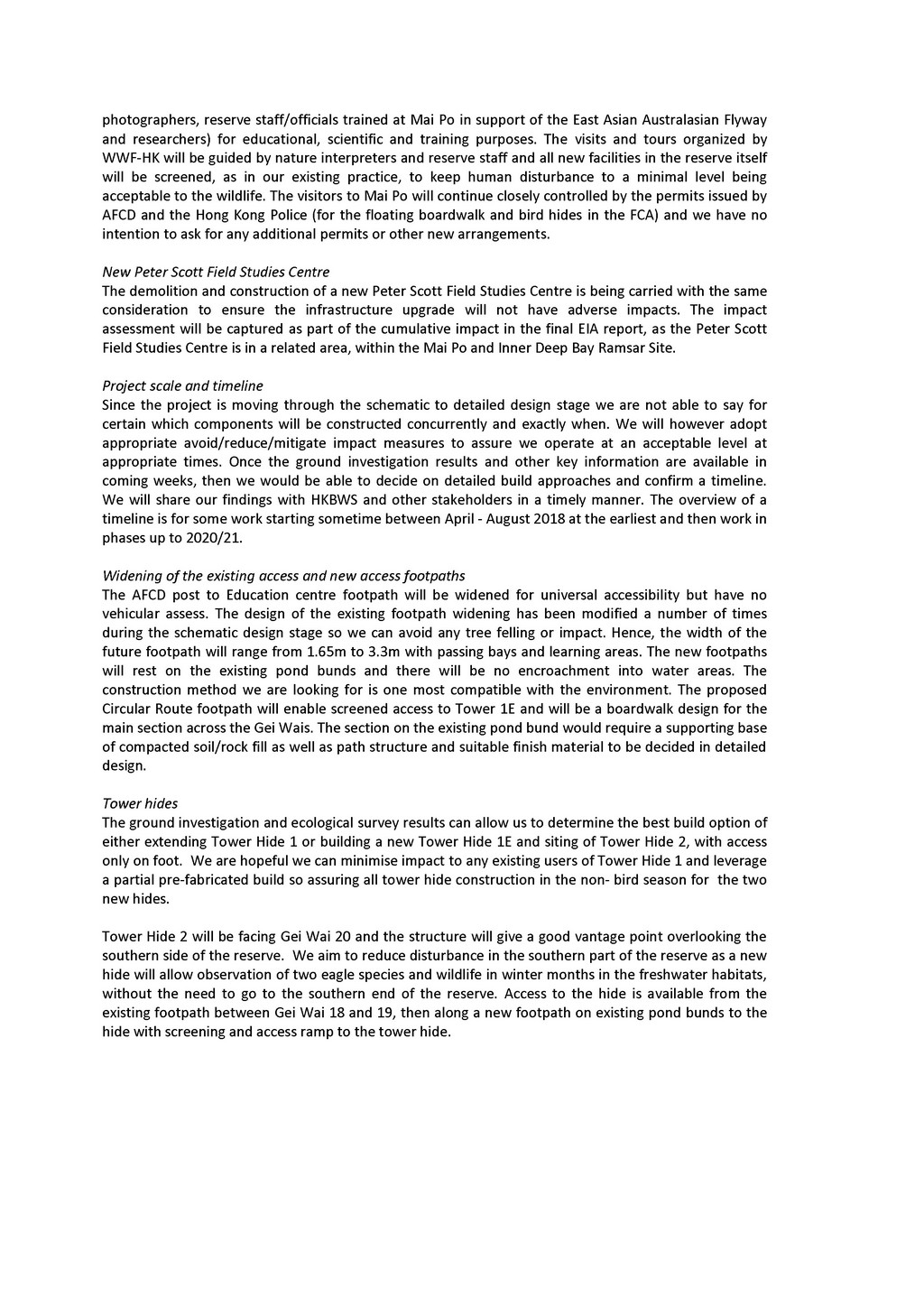 Image Attachment: abbr_45d4f2541a8f20e8607d64a158042c36.jpg (8/08/2017 09:29, 126.66 KB) / Download count 562
http://www.hkbws.org.hk/BBS/attachment.php?aid=30519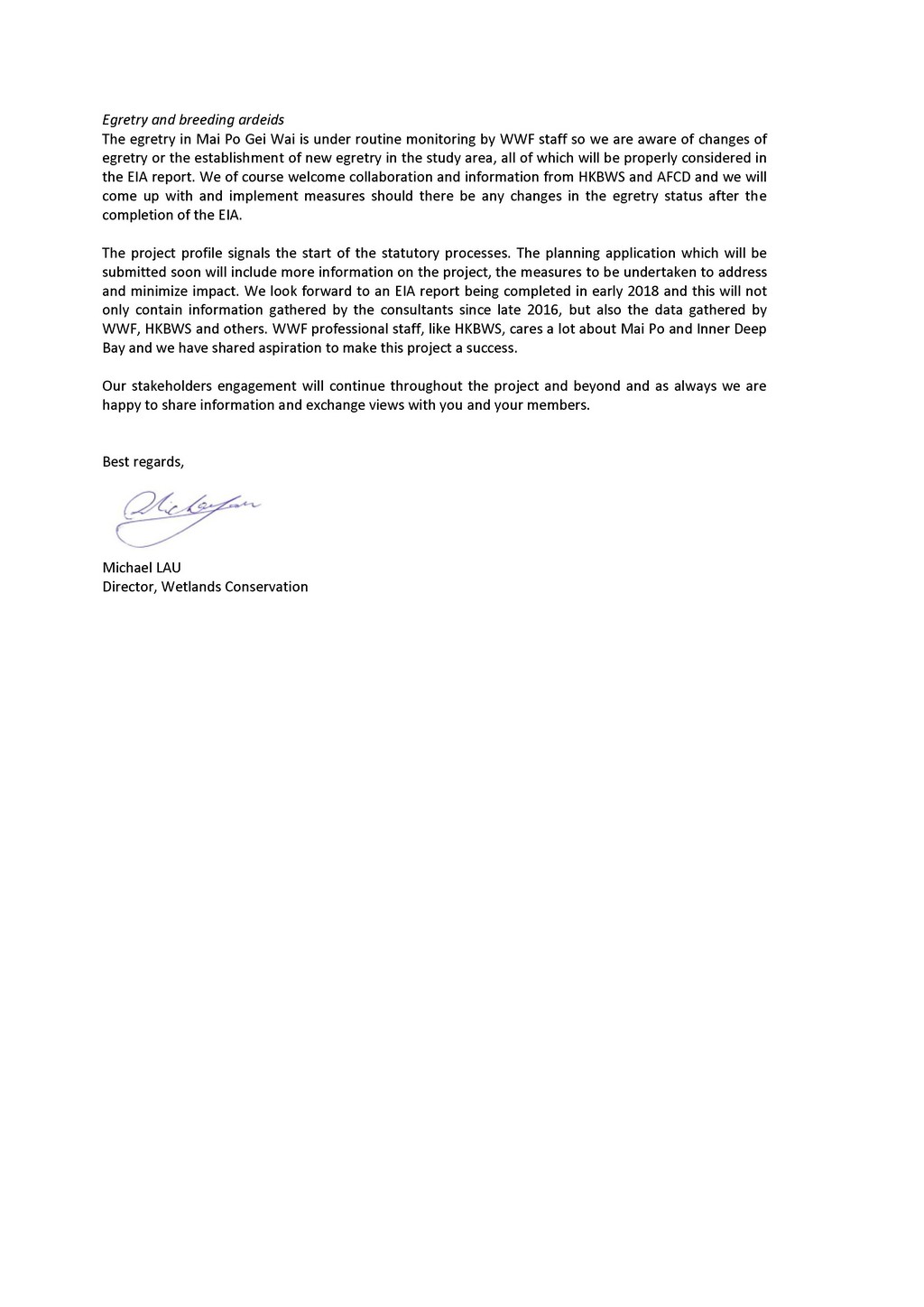 Attachment: abbr_d977ff54c61be2976501bc210288d2a1.pdf (8/08/2017 09:33, 318.78 KB) / Download count 604
http://www.hkbws.org.hk/BBS/attachment.php?aid=30526
---
Author: hkwongkit Time: 28/06/2018 12:02

Please if there is an update to this proposal/project?
Implementation schedule?

I understand the construction starts early Feb 2019.
Is there any special car parking arrangement for members visiting the Reserve?

Thanks
--
---
Author: wmartin Time: 19/01/2019 18:50 Subject: Petition re EIA for Peter Scott Centre destruction and rebuild

To me, the Peter Scott Centre is relatively new [!]; so a bit surprised it is to be knocked down, replaced with something - which as yet is perhaps a mystery.

Also surprised at this thread being so quiet.

Well, Michael Lau's letter says WWF welcomes transparency; yet is this currently lacking?

Perhaps of interest to members, a petition calling for EIA for the centre, along with more info relevant to visitors. Might ask, should WWF HK uphold high standards it asks of others in Ramsar site and other sensitive areas in HK?

https://www.ipetitions.com/petit ... _7QXVxzklb5XN7j7VeA

[ Last edited by wmartin at 19/01/2019 18:54 ]




---