Overview of the Inventory
Two IBAs have been identified in Hong Kong (covering c.6% of the land area of the territory): the "Inner Deep Bay and Shenzhen River catchment area" - a globally important wetland site that supports very large numbers of passage and wintering waterbirds including several threatened species, and the forested area "Tai Po Kau, Shing Mun and Tai Mo Shan" that supported many of the characteristic species of the Sino-Himalayan subtropical forest biome.
HONG KONG

Land area : 1,091 sq. km
Human population: 6,843,000 (6,272 per sq. km)
Number of IBAs : 2
Total area of IBAs : 65 sq km
Status of IBAs : 1 partially protected / 1 protected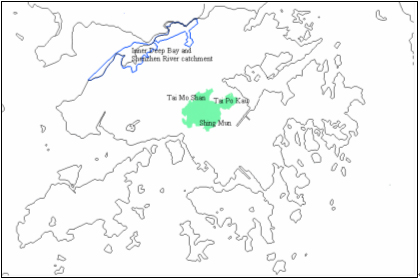 For higher resolution, click HERE.
---
Contact HKBWS, e-mail to hkbws@hkbws.org.hk
IBA 1
Inner Deey Bay and Shenzhen River Catchment
IBA 2
Tai Po Kau, Shing Mun, Tai Mo Shan
Conservation infrastructure and protected area system
Summary of IBA in Asia (in PDF format, 2.2Mb)
Press release (Hong Kong): 18 Nov 2004
Press release (BirdLife, global): 18 Nov 2004
News reports and relevent news