Kite Research Group (KRG)

Objective
To study and monitor local Black Kite population and breeding condition by conducting regular kite survey and annual breeding survey.
Members
KRG consists of a convenor and eight members
Survey
Monthly kite survey is conducted on a Sunday around sunset in Guildford Road of Mid-levels and New Yau Ma Tei Typhoon Shelter. In winter, Black Kites migrating from the north arrive at Hong Kong. Thus, every December, the kite survey extends to other districts over Hong Kong, e.g. Sai Kung, Stanley etc.
Education and Promotional Activities
KRG has organized kite watch activities, hold seminars and publish printed leaflets in order to enhance the public's knowledge on Black Kite, the most common raptor in Hong Kong.
Should there be any sighting of possible breeding activities like carrying nesting materials such as tree branches, plastic bags and other rubbish, please note down the date, place and time, and send an email to us.
In conservation, every effort counts!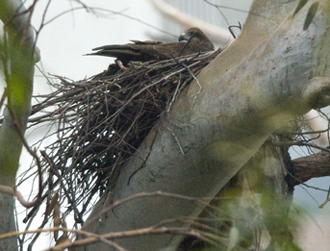 A Black Kite in the nest (by Peter Chan)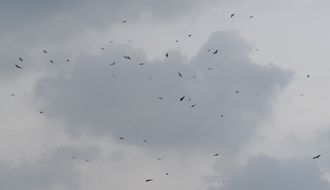 Black kite groups in Magazine Gap during sunset
(by Henry Lui)